Postcards From the Edge
If you would like me to send you a postcard from the land of Deutche, send me your address and I'll hook ya up.
Now for another photo.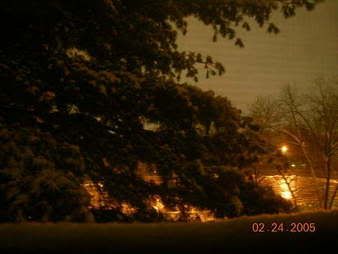 Taken from my bedroom window after the "storm" last night. (If I could figure out how to change my template around the photo wouldn't have had to be shrunk so much.)
I promise I will start my posts again about how much I hate the Bush Administration and how much I think he sucks ass soon. I needed to take a break from the news, it was beginning to kill me on the inside.
Needless to say I'm looking forward to going to Germany and telling people that, no I did not vote for him and yes, I don't know how anyone in their right mind could have, with all the bad things he's done.
(DID YOU HEAR THAT GONZELEZ YOU SUCKY ASS EXCUSE FOR AN ATTONREY GENERAL?? I SAID THE BUSH ADMINSTRATION SUCKS ASS!!)